Renovation Dumpster Rentals
Residential Dumpster Rentals for Renovation
From major renovations to clearing out the garage, there's one thing every home-improvement project has in common: waste. With trash and debris comes the need to remove them, leaving behind nothing more than a glorious finished product. Whether you're breaking ground on a full-on home extension or engaging in some serious spring cleaning, residential dumpster rentals will help you check the hassle of waste removal right off your to-do list.
Dumpster Rentals
Renovations and Remodeling
Renovations and remodels can be messy, but residential dumpster rentals help you keep your property clean and tidy as the project unfolds. Maintain your curb appeal and save yourself a headache later by cleaning up as you go instead of saving this step for last.
If you're hiring outside help, your construction crew will be pulling debris and refuse from all over the place, so securing a roll-off home dumpster rental for the duration of your project will not only protect your lawn but also make cleanup go much more smoothly on a day-to-day basis. This is a job your average garbage can just isn't cut out for.
Standard Roll-Off Dumpsters
Standard roll-off dumpsters may not be used to dispose of concrete, clean dirt, or similar materials. We offer separate clean concrete or clean dirt dumpsters specifically for unloading brick, concrete blocks, driveway material, stucco, tile roofing, etc.
Concrete and Dirt Dumpsters
Order Now
Landscaping
Leftover dirt, weeds, dead plants all look better in mulch than on your lawn. The whole point of landscaping is to beautify your property, so getting rid of yard waste is just as important as the project itself. Our low-priced residential dumpster rentals are perfect for tossing large quantities of dirt, sod, and trimmings at once. Clear your lawn of unwanted growth to make room for new things to sprout in every direction. Your home can be even more of an oasis than it already is.
Spring Cleaning
Spring cleaning is a tradition older than the invention of the dumpster itself. While we can't help you shake the dirt and clutter right out of your home and directly into your roll-off dumpster, we can offer the next best thing by delivering residential dumpster rentals right to your home's driveway or curb.
Despite the light and refreshing sound of "spring cleaning," this common household task seems to be a stressful burden for many homeowners. A survey by Merry Maids found that over two-thirds of homeowners view spring cleaning as an overwhelming and time-consuming chore. Make the process less daunting by renting home-friendly dumpsters at a price you can afford. Free yourself up to focus on deciding what stays and what goes, and ASAP will take care of the rest.
Decluttering the Garage
Some decluttering projects don't need anything more than a garbage bag in one hand, while others call for a major haul. The more you're prepared to haul away, the easier it'll be to say goodbye to all the things coming between you and a spacious garage.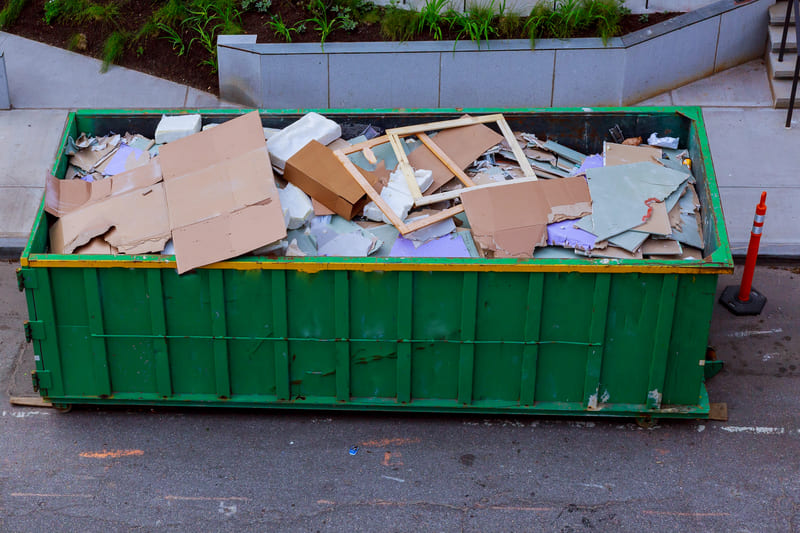 Know Your Needs Ahead of Time
Keep in mind that while you don't need permission to place a roll-off dumpster in a private yard or driveway, storing one on the street may require a permit depending on where you live. We recommend contacting your local government before ordering your residential dumpster rental to see if a permit will be required in your area. Seeking out this information ahead of time can save you time, money, and unnecessary hassle.
Different projects require different disposal solutions. For spring cleaning and other simpler tasks, you'll probably be fine with just a standard, mixed-material dumpster. On the other hand, for full demos, new construction, and home renovation jobs, you may require both a standard roll-off dumpster and a clean dirt or concrete dumpster (or two) to dispose of any clean, recyclable materials like brick, tile, pavement, and manure.
As for payment, you'll cover the total cost upfront when you complete your order. You may incur additional charges if we have to travel farther than indicated for delivery or servicing, if local disposal rates increase unexpectedly, or if your load exceeds the weight quoted in your order, among other variables. Whatever the situation, we'll always do our best to offer the most affordable prices on residential dumpster rental services in your area.
We're here to answer all your questions and help set you up for a successful project. Give us a ring at (888) 413-5105 during business hours or fill out our online form anytime to get the ball rolling.
Standard Roll-Off Dumpster Sizes
Size
Typical Dimensions
Capacity
10 Cubic Yards
15 Cubic Yards
20 Cubic Yards
30 Cubic Yards
40 Cubic Yards
10 ft long x 8 ft wide x 3.5 ft high
12 ft long x 8 ft wide x 4 ft high
22 ft long x 8 ft wide x 5 ft high
23 ft long x 8 ft wide x 7 ft high
20 ft long x 8 ft wide x 3.5 ft high
1 Ton / 2000 lbs
1 Ton / 2000 lbs
2 Tons / 4000 lbs
3 Tons / 4000 lbs
4 Tons / 8000 lbs
Concrete and Dirt Dumpsters
Size
Typical Dimensions
Capacity
10 Cubic Yards (Full)
20 Cubic Yards (Half)
10 ft long x 8 ft wide x 3.5 ft high
20 ft long x 8 ft wide x 3.5 ft high
10 Ton / 20,000 lbs
10 Ton / 20,000 lbs
Find Your Local Pricing & Order Today!
Order Now