Fair Waste Services
2731 E. Grass Lake Road Clare, MI
Not Just Another Roll-Off Container Provider
When it comes to garbage disposal, we don't just offer excellent containers; we provide convenience. With our roll-off dumpsters, you can easily get rid of junk, yard waste, and construction debris. Our containers are made using sturdy materials, so you can rest assured that each dumpster can handle small to large amounts of rubbles and garbage.
FAIR WASTE SERVICES IN CLARE, MI
Are you trying to find the best waste disposal option in the Clare, MI, area? Well then, you've come to the right place! Fair Waste Services is a reliable, friendly and family-oriented service team that provides a variety of roll-off container, dumpster, and waste disposal services to our community at competitive prices. We believe in quality work and conducting our transactions with integrity. It is our mission to make available to clients the service that they need in waste disposal needs in Clare, MI and in nearby communities.
Services
We are not a one-trick pony. Fair Waste Services offers a wide range of containers and services for the Clare, Michigan area, ranging from general waste management to giving people cash for certain types of scrap. If you want to learn more, here is a general overview of some of the services that we provide: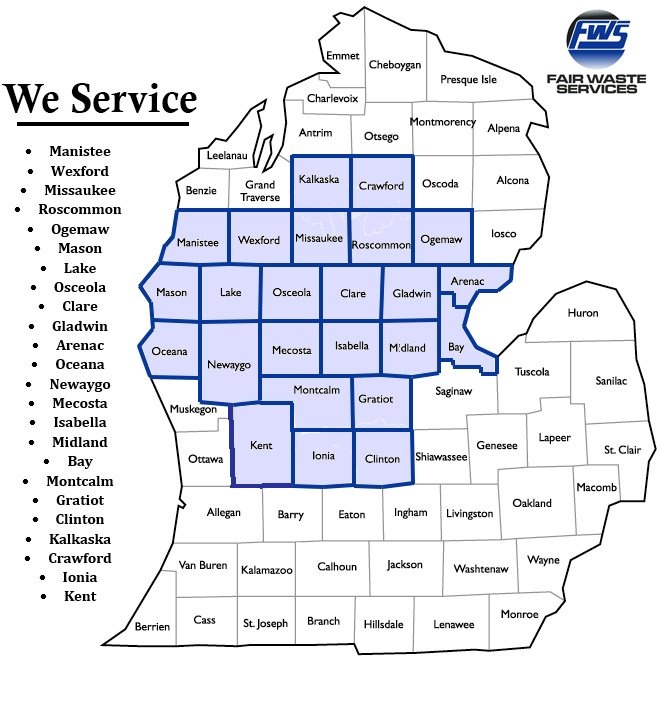 great prices for a wide array of scrap metal materials

small waste container drop-off and pick-up for renovation projects

large waste containers for big cleanup needs, including construction and business remodeling

waste and residential trash removal

recycling of metals and metal-based items (including appliances)

yard waste removal

basic dumpster rentals

solid waste management

scrap vehicle tire disposal
Salvage Opportunities
Salvage services and scrap metal container drop-off are a core part of the services that Fair Waste Services offers. If you have questions about transporting materials for salvage feel free to call us to learn more.
Customer Care
All our services are conducted in a professional manner by our well-informed team members. Staff are friendly, reputable, and have the integrity it takes to deal with our clients kindly and honorably. Some salvage yards try to haggle you into a deal that's not fair to you, while we use our pre-established guidelines to determine transparent pricing. Our team is very knowledgeable about scrap metals and proper disposal methods.
If you have questions about salvage or scrap metal, are needing a dumpster or roll-off container service for any size cleaning, renovation or construction project, or want to better understand the waste removal and recycling options available to you, please contact Fair Waste Services and we will be glad to help you come up with a strategy that works best for your individual situation.