Archives for December 2018
Tom Kraemer, Inc.
16994 Co Rd 158
Cold Spring, MN 56320
Mile High Environmental Services Inc.
9520 E Jewell Avenue Suite C Denver Colorado 80247
Monarch Disposal LLC
201 Hunters Crossing Blvd 10-120 Bastrop, TX 78602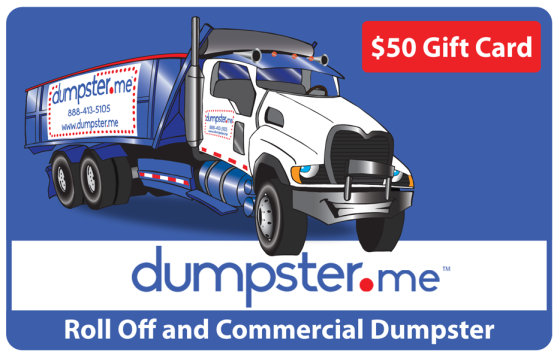 Who says you can't get something for free these days? We're proving that's simply not true with this special gift exclusively for our valued customers. Arwood Waste is giving you a FREE $50 Gift Card from our partner site Dumpster.me. Now that's a nice discount on your next Roll-Off or Commercial Dumpster Rental. This gift card is normally purchased on sites like Amazon.com and our other Partner Retailers but it's our gift to you just for being our customer.
Simply download your special dumpster gift code below then head over to Dumpster.me and enter that gift code when you place your order. We are so excited to give this free gift to you simply as a Thank You for trusting us with your business.
Jasper Mfg., Inc. dba A&A
2115 Catalpa Loop Road Richmond, KY 40475
Your friends at Arwood Waste would like to wish you a Prosperous, Rewarding and Productive New Year!
Small changes can have a big impact on your year. Here are three tips to start your New Year off strong!
#1 Simplify your environment.
Take a few minutes to walk through your home or business and ask yourself, "What can I get rid of here?" HELPFUL HINT: If it hasn't been used in more than a year, it's time to go.
If you have a newer version, don't keep the old one around 'just in case'. Have a stack of half done projects? Make a realistic plan to get them finished. Keeping them around only acts as a reminder of half-fulfilled efforts.
A purge of your physical environment brings clarity and space for vision in the atmosphere of your home or business.
#2 Share your abundance with others.
When sorting stacks of stuff, consider what might be donated, recycled or re-purposed. Things you have no need for may be just what someone else has been searching high and low to find. If you don't have interest in holding a yard sale, you can give your unwanted items new homes by donating them.
Thrift stores are a go-to option, but consider checking with other local non-profit organizations. Zoos and animal shelters are often in need of blankets, towels and long lists of miscellaneous items. Schools and teachers also have uses for unwanted supplies for projects, crafts or classroom decorations.
Check out The Recycle Guide for more ideas on places to drop off your unwanted items or information on how to recycle them.
#3 Plan space for growth.
You can't add a new healthy habit, project, or vision to your plate without letting go of an old one. Set yourself up for success with your New Year's plans. Start by evaluating what's on your plate now. Decide what can be delegated, modified or simply stopped. Then put that newly found time and energy into this year's goals and habits.
Make Room For the New
Arwood Waste and our partners specialize in helping you haul the junk out of your life. Contact us toll free at (888) 413-5105 for help with disposal after all that purging and cleaning. Find out how our roll-off dumpsters, portable toilets, storage rentals, junk removal or commercial dumpsters, temporary fencing, Medical Waste and Demolition Services can help you start the year right!
We look forward to serving you throughout the New Year!
SILVEY SERVICES
816 SLOUGH ROAD
DRUMMONDS TN 38023
EAGLE DISPOSAL
PO BOX 1288
SALADO TEXAS 76571
Fox Septic & Porta Potty Services
4288 Springridge Rd, Raymond, MS 39154
"It is Christmas in the heart that puts Christmas in the air." – W.T. Ellis
What better way to end the year than to spend it celebrating and creating memories with family and friends. As you gather with loved ones this Christmas, we hope you are filled with love, joy and the Christmas spirit.
As we celebrate with family this Christmas, our hearts are thankful. At Arwood Waste, we are thankful for the privilege to live and work in a great nation. And we are thankful for you, our great customers who trust us every day with your business.
It is our honor to serve your waste management needs throughout the year and we thank you for supporting local, small businesses.
Arwood Waste and our partners wish you a very Merry Christmas!